Did you know that nearly 40% of engagements occur between November and February? We call this time of year engagement season. What follows is a whirlwind of activities. Many newly engaged couples spend months in major planning mode: building a budget, choosing a date and looking for vendors.
As engagement season winds down, a new season blossoms: bridal show season!
If you're newly engaged—or if you know someone who just said yes—we recommend you attend a few bridal shows to find vendors and gain inspiration. About half of all engaged couples use products and services from at least 10 different vendors, which means that you have to research many more than 10 to narrow down the vendors that are right for your special day. Initially, bridal shows can overwhelm even the most confident, assertive brides and grooms. We'd like to address this and empower you with a few terrific tips to use the bridal show experience to your advantage!
We've collected 8 tips to make your bridal shows successful. The first 5 were originally posted by our wedding industry colleague from Kentucky, Kayla of Designs by Kayla. Kayla owns a boutique graphic design studio that specializes in weddings and events. Be sure to check out her amazing designs after you read this blog! If you plan to attend a bridal show in the near future and want to get the most out of your experience, start by reading Kayla's tips (1-5)! We couldn't have said it better ourselves. This is what you need to know:
Bridal Show Tip #1 — Don't Go In Cold
This is the most important: Do your research. I don't mean do your research after you attended the bridal show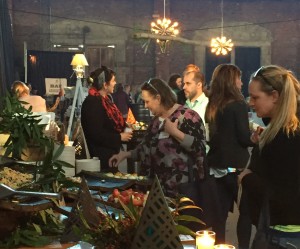 and looked around. No. Do it before. Take about an hour or so and think about the services you still need for your wedding. You could still need all of them, but write them down. Then, go to the bridal show's website and look at the vendors who will be attending. Go to each individual vendor's website for the services you need – and I do mean all of them. This will give you a way to sift through the vendors you don't want to see and the vendors that pique your interest.
Bridal Show Tip #2 — To Book or Not to Book
Create your questions. Now that you have a list of vendors you would like to visit and talk with, create the questions you would like to ask these vendors. This could be anything from the process, timeline, wedding date availability and my personal favorite: "What happens if I book now?" This may seem self-serving, but honestly, it's not. Vendors usually provide the lowest prices of the year at these shows or add services for free or little cost that they normally would never do. Most likely though, these deals end when the bridal show is over.
I'm not suggesting making a quick, un-researched decision to book on the spot. Visit vendors, see if they fit your personality, style and budget, make sure they resonate with you, and after that, if you like the discounts they are providing, book.
Bridal Show Tip #3 — Take Your Time
If you aren't ready to book, that's completely OK. Don't sweat it. Take what you are given and research more later.
Bridal Show Tip #4 — Be Fashionably Late
If you're like me, you chronically show up to an event on time, if not early. However, this is a time when I say do the opposite. Yes, some places offer prizes for being one of the first to show up, but do you really need it? If so, please by all means, go grab your free bag, but if not, please go later.
And here's why: Imagine the flood of other couples coming to the show early, and once the doors open, they're all hitting the booths at the same time. Most of the time, there's only one or two people at the booths trying to manage everyone at the same time. Imagine the amount of personal time you will get with the vendors, and especially those you've researched to stop by and ask questions. Hint: it's not very much. After about two hours, things die down a little bit and the chaos ebbs. This is when you want to show up.
Bridal Show Tip #5 — Guilt-free Inbox
After the show, you will be put on a list with almost every single vendor there. I can't even imagine what your inbox looks like after just one show. Don't feel guilty about hitting that unsubscribe button if the emails don't resonate with you. Some tips on what you want to look for: they educate you more than they try to sell to you; they were a vendor on your researched final list; and/or they were someone you talked to at the show that you'd love to learn more about. Unsubscribe. The last thing vendors want to do is waste your time or theirs.
And a few tips from Espresso Dave's team:
Bridal Show Tip #6 — Say Yes to 

Gmail
Be sure to set up a gmail account for all wedding-related communication upon becoming engaged. After the wedding, look through the emails and send quick thank you's to vendors, and others, who assisted you with your special day. Once you're done, cancel the account.
Bridal Show Tip #7 — Lovely Labels
Before you head to the bridal show, create pre-printed labels with your contact information to give to vendors upon request. This will save time so you can get right down to business with the vendor. 
Bridal Show Tip #8 — Caffeinate!
The coffee catering vendor is a very important booth to visit during a bridal show. We always offer complimentary
samples of our espressos, cappuccinos, mochaccinos and more when we exhibit at a bridal expo. We'll be at the following public wedding shows listed below this bridal show season. Stop by for a handcrafted specialty coffee and let us know which tips in this post helped you the most! Looking forward to meeting you!
2018
January 28    Bridal Expo at the Cruiseport Gloucester
January 31   Zorvino Vineyard, Sandown (NH)
March 4      Fairest of Them All Wedding Expo at Coolidge Hall, Topsfield Fairgrounds, Noon-3 p.m.
March 4     Larz Anderson Wedding Expo, Noon – 3 p.m.
March 11     Wedding Open House at Tupper Manor, 2-4 p.m.
March 29     The Wedding Experience at Manchester (NH) Country Club, 6:30 – 8:30 p.m.
We'll update this list as we add wedding shows. Check back for additional dates.
Questions or comments? We're eager to hear them (post in the box below!)
Statistics quoted in this post are from The Knot.