Today I'm sharing my favorite coffee spice dry rub recipe for summer grilling and alfresco dining. It's really easy to make. And the best thing about this DIY dry rub is that I bet you have most of the ingredients in your kitchen cupboard—no shopping required!
Like many of you, I've enjoyed expanding my home cooking repertoire during these past few months of my coronacation. And, I'm happy to report that now that it's summertime, I've been using my grill and smoker nonstop. I whole-heartedly recommend making up a batch of my coffee spice dry rub to try out for your next grilling adventure. This homemade coffee spice dry rub is an awesome seasoning for meats, poultry, and fish.
Before I share my favorite dry rub recipe—an aromatic combination of spices and freshly ground coffee—let's review what a dry rub is and how you can create my coffee spice dry rub right in your very own kitchen.
What's a dry rub?
In the simplest terms, a dry rub is a combination of dry spices, herbs, and sugar. It's used to coat and flavor raw foods prior to cooking. The best dry rubs are a mix of savory, sweet, and spicy elements. The most flavorful dry rubs are made with the freshest jarred spices possible (opened within the last year) or those that you grind yourself. I recommend purchasing an extra coffee grinder that you devote to grinding spices into powder.
How to create Espresso Dave's Coffee Spice Dry Rub
Espresso Dave's Coffee Spice Dry Rub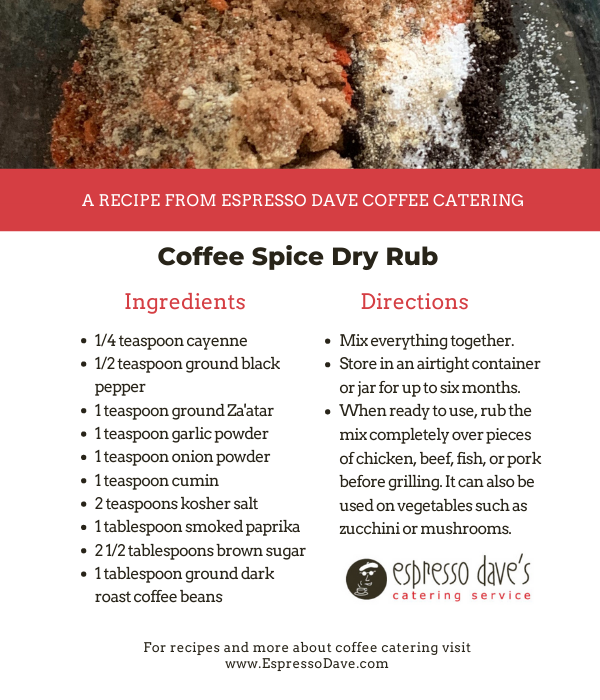 What do you do if you don't have the exact ingredients that I used? Be adventurous! Try substituting a spice you think might work. Just remember, creating a dry rub is a balancing act between the amount of savory, sweet, and spicy!
Did you try it?
Why not try out my coffee spice dry rub a try for your next physically-distanced, backyard gathering with family and friends? (Perfect for July 4 celebrations!)
Let me know in the comments below what you think of this recipe. Or, do you have a coffee rub you'd like to share? I'd love to try it! Jot it down in the comments below.
↓Pin for future reference↓