Engagement season's upon us. So, it's also bridal show season! Nearly 40% of engagements occur between November and February. If you're engaged or have a BFF who's engaged, then attending a bridal show or two is a terrific idea. I'd like to share some observations with you! I'm a vendor who's exhibited at bridal shows and worked with brides and grooms for more than 20 years.
Wondering why bridal shows are so popular? Basically, it's about convenience for the couple—bridal shows feature lots of vendors in one space! About half of all engaged couples use products and services from at least 10 different vendors. This means you end up researching many more than 10 wedding vendors to narrow the list down to the vendors that are right for your special day.
Another reason bridal shows are popular is that you have the opportunity to see (taste, smell, touch, hear) what you're paying for.  Did you know that the bride and groom, on average, spend $45,294 for a wedding in Boston? Bridal shows are a great way to meet vendors and gain inspiration—in real time and in person!
As amazing as bridal shows are for the bride-to-be and your tribe, they can overwhelm even the most confident, assertive couple. Here are 9 practical bridal show survival tips to maximize your experience!
Bridal Show Tip #1 — Don't Go In Cold
It's all about doing your research before you attend the bridal show. Make a list on your phone or write it down. Then, go to the bridal show's website and look at the vendors who will be attending. Be sure to check out each vendor's website. This will give you a way to sift through the vendors you don't want to see and the vendors that pique your interest. This first step is the key to getting organized and avoiding inspiration overload.
Bridal Show Tip #2 — Pinterest for Inspiration
Another important step before you attend a bridal show is to create a Master Wedding Board on Pinterest.
You can include the latest trends and lasting classics!  For details about how to use Pinterest to plan your wedding—for inspiration—check out a blog post from our favorite designer and creator of handmade, heirloom wedding garters, The Garter Girl. 
Bridal Show Tip #3 — To Book or Not to Book
Once you have a list of vendors you would like to visit and talk with, create the questions you would like to ask. This could be anything from the process, timeline, wedding date availability and if they are running a bridal show discount. Visit vendors. Do they fit your personality, style, and budget? Do you like the discounts they are providing? Once you weigh all of these elements, book.
Bridal Show Tip #4 — Take Your Time
If you aren't ready to book, that's completely OK.
Bridal Show Tip #5 — Be Fashionably Late
Showing up toward the end of the show is when things die down a bit—the initial rush is over— and the chaos ebbs. This is when you want to show up. Vendors will be more available to chat!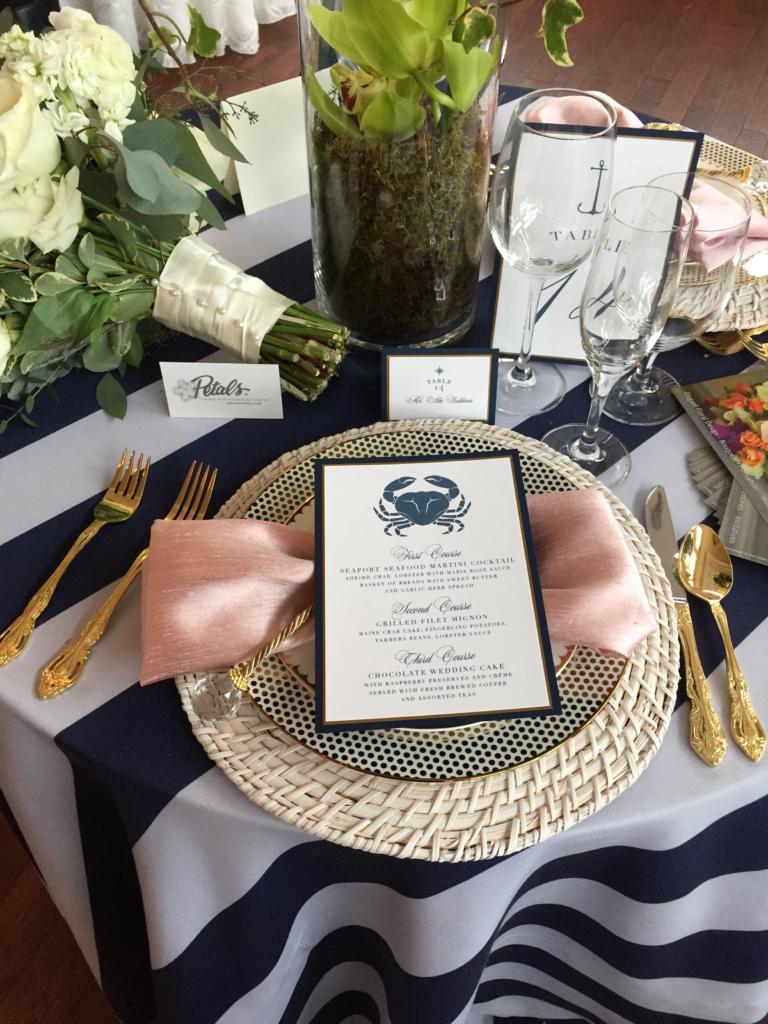 Bridal Show Tip #6 — Say Yes to Gmail
Be sure to set up a free Gmail account for all wedding-related communication upon becoming engaged. After your wedding, look through the emails and send quick thank you's to vendors, and others, who assisted you with your special day. Once you're done, cancel the account.
Bridal Show Tip #7 — Guilt-free Inbox
After the bridal show, your email will be shared with every vendor exhibiting. Unsubscribe to the vendors you're not interested in. The last thing vendors want to do is waste your time or theirs.
Bridal Show Tip #8 — Lovely Labels
Before you head to the bridal show, create pre-printed labels with your contact information to give to vendors upon request. This will save time so you can get right down to business with the vendor. 
Bridal Show Tip #9 — Caffeinate!
The coffee catering vendor is a very important booth to visit during a bridal show (and to have at your wedding reception, of course!) We always offer complimentary samples of our espressos, cappuccinos, mochaccinos, and more when we exhibit at a bridal show. That's one of the reasons we're popular at wedding expos and at wedding receptions (good coffee is the ultimate way to express your warm hospitality).
For details on our espresso bar service for weddings and after-parties, click here!  To request a quote for your upcoming wedding, go to our quick, easy form!
We're exhibiting at the following bridal shows:
February 17, 2019—Rivermill Wedding Expo, Dover, NH
March 3, 2019—Bridal Showcase at Cruiseport Gloucester 4-7 pm
March 3, 2019—Fairest of Them All Wedding Expo, 12-3 pm, Coolidge Hall, Topsfield Fairgrounds, Topsfield, MA
Be sure to check back for additional bridal show 2019 dates.
What's your favorite bridal show survival tip? Questions or comments about this post? We're eager to hear them. Share your thoughts in the box below!
DJ Photo Credit: Gavin Whitner of Music Oomph