How many times have you attended a wedding reception where you enjoyed a great meal followed by a spectacular piece of wedding cake served with a cup of dark, brown water pretending to be coffee? Disappointed? I feel you
r pain. But it's very easy to fix: hire a specialty coffee caterer, like Espresso Dave's, to provide fabulous espresso bar service.
Serving great coffee at your wedding reception really matters. If you're in the midst of planning your own wedding, consider five things I've learned from providing espresso bar service at hundreds of weddings throughout New England over the past 23 years.
Make a lasting impression
1. Coffee, after a meal, is one of the last impressions you impart upon your guests. It should reflect the overall quality and beauty of the event. It will cap off the occasion with warmth and richness.
Don't settle for mediocrity
2. It is my belief that inferior coffee should never be served to guests, whether at home or at a function. Serving that regular ol' cup of joe is a mediocre way to conclude a gathering, especially when the folks gathered are people important enough to be at an event marking one of the most important days in your life – your wedding!
Guests know the difference
3. Don't forget, your friends are part of the coffee generation: stopping at Dunkin' Donuts, Starbucks, or their local coffee purveyor on a daily basis. They know great coffee.
Pleasure principle
4. Refreshments play a major role in setting the tone of your wedding reception. The type of refreshments you offer also influences guests' behaviors and their memories of your event. Espresso Dave's pop-up cafe presence adds to the ambiance of your event. Your guests will associate the smell of coffee with pleasure. Their perception of pleasure will be enhanced by the sight and sound of steam and the warmth of their cups of individually handcrafted coffees.
Good cheer without the hangover
5. There is a world of difference between offering conventional coffee (or soft drinks) and Espresso Dave's individually-created coffee beverages like cappuccinos, espressos, lattes and chai tea accented with lush chocolate or alcohol-free flavors. Beverages which are custom-made by our trained, personable baristas, project an upscale, we-care-about-our-guests message. Offering fabulous, specialty coffee beverages also encourages conversation and good cheer among your guests. This feeling drives my daily passion to offer a sophisticated, alternative to alcoholic drinks, ordinary coffee and sugary sodas at events.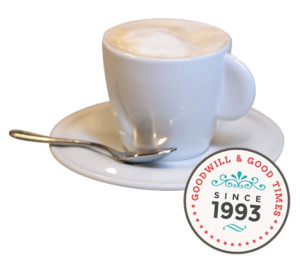 Whether you're in the thick of planning your own wedding reception or working with a wedding planner, we recommend you hire an experienced, fabulous, espresso coffee catering service, like ours. For 23 years, Espresso Dave's Coffee Catering's been entertaining wedding guests by showcasing the sights and sounds, smells and flavors of gourmet specialty coffees at bridal receptions throughout New England!
Contact Espresso Dave's Specialty Coffee Catering today
Espresso Dave's offers a variety of caffeinated and decaffeinated beverages. Both hot and cold brews, iced and frozen are available. Our baristas are professional, polite and enjoy providing awesome coffee to you and your guests. Contact us today to learn more about our affordable service and how to enhance your upcoming event!
Espresso cup photo: Rick Bouthiette Photography.