Last week, I poured myself a double espresso coffee and escaped to my man cave (basement) to view the eco-documentary, No Impact Man. The movie's about a Manhattan couple and their toddler who try to eliminate their impact on the environment for one year—virtually leaving little to no footprint!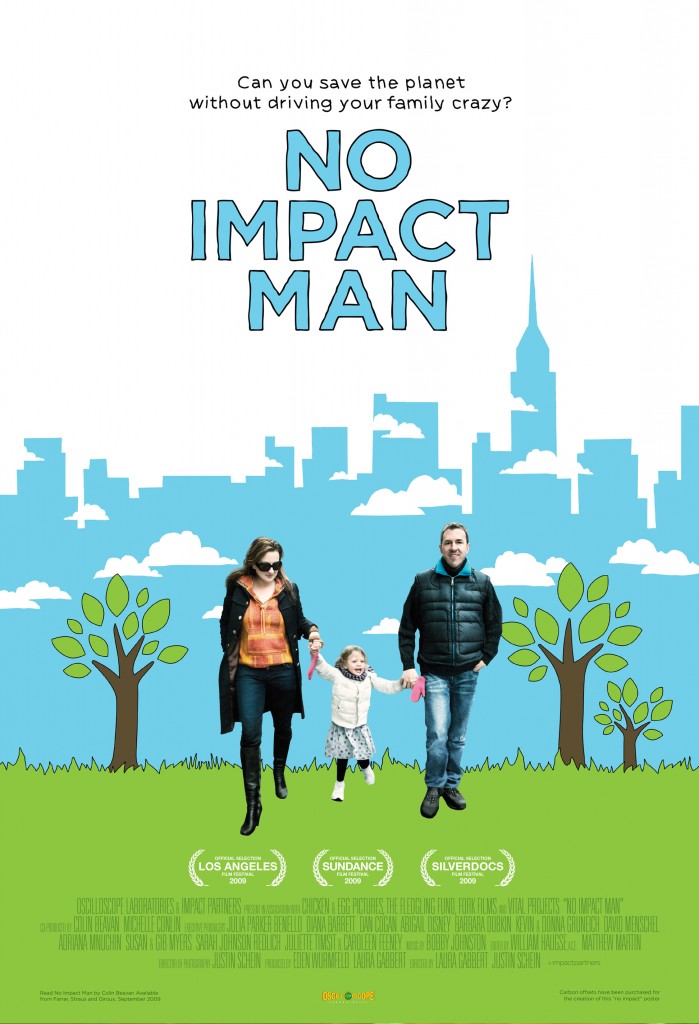 Imagine no car, no subway, no elevators, no tv, no taxis, no air conditioning, no newspapers or magazines, no shopping for new clothes, no refrigerator, no disposable diapers, no toilet paper, and consuming only local food (produced within 250 miles of their home.) The main character, Colin Beavan, did use his laptop regularly to document his year. I found this interesting especially since he had very limited electrical service during this experiment. I'm sure his wife would have enjoyed some tv or ac instead!
The most difficult part for me to witness was when the Starbucks-addicted wife/mom had to give up coffee. Such suffering! That's when I wished that Espresso Dave offered a mobile-pour service, a.k.a. scootering barista superhero, so I could zip by wearing my coffee-colored cape, black beret, and green bean embellished mask, hand her a coffee, and quickly flee around the corner.
No Impact Man inspired me to think about how I might make some changes in my life and business to lessen my impact on the environment. I'd like to share a few tips with you to help make your event or wedding reception more eco-friendly, especially your beverage service.
First off, ask your caterer, event manager, bartender or espresso bar barista about glassware or china/ceramic service. Next, make sure they have receptacles for recycling glass and plastic bottles and for paper products.
To turn the coffee bar green, ask if they can serve shade grown coffee, this is coffee grown in the most natural habitat, typically from small, family-owned farms.
When planning for a greener coffee service, you might also consider requesting disposable, compostable or biodegradable options, such as:
Hot beverages Choose from chlorine-free, sugar cane based cups or those made of paper that is free of chlorine, petrochemicals and animal ingredients, coated with a polylactic acid (which is made from corn and potatoes.)
Iced and frozen beverages Request clear cups which are made of resin derived from corn starch.  Or, check out this exciting innovation in biodegradable drinkware called Jelloware by The Way We See The World. These cups come in a variety of flavors to complement your ice caps or frozen mochaccinos and smoothies. They are made from agar agar, a gelatin derived from algae that can nurture plant growth. Fill, drink, nibble, toss, grow. What a concept!
How about serving your coffee in specially-ordered, reusable ceramic or travel mugs featuring the event logo, monogram or corporate message? These serve a dual purpose: as favors!
One more tip: before your event, deliver a special container to the caterer or event manager in which to collect the used coffee grounds during the event. These grounds can later be used as fertilizer for your garden.
What are your suggestions on how to offer a more eco-friendly coffee service? I'll be checking for your comments!  And, don't forget to rent No Impact Man. I promise it will make you think about the way you live in relationship to Mother Earth.
Enjoy Earth Day everyday!