Engaged couples spent an average of $384 on their wedding cakes in 2010. That's what the experts at bridetide.com shared with me recently. An extraordinary amount of time goes into selecting the perfect cake because it is one of the main focal points of the wedding reception.

From what I've learned through my colleagues in the Boston Wedding Group, there is a multi-step process for selecting the wedding cake. The process seems a bit daunting to me. When I was engaged, I just asked my fiancé to tell me where to show up on our wedding day; that was the extent of my involvement in planning our wedding.
A couple begins by attending design consultations with their wedding cake specialist. They bring bridal magazine clippings of favorite cakes
and share wedding site links on their iPhones. Next, they flip through the designer's portfolio and narrow down their selection. Style and shape are key decisions; matching the wedding décor is another. Then, there's the type of cake.
Jenny Williamson, owner of the award-winning boutique style wedding cake company, Jenny's Wedding Cakes, offers the most luscious, mouth-watering cakes: cointreau strawberry,  raspberry champagne, carrot honey, in addition to your more traditional classic white, chocolate and red velvet, to name a few. Her buttercream flavors range from traditional vanilla to white chocolate Swiss meringue to limoncello. How about the filling between layers? A cake topper? Adorning the cake with cascading flowers, jewels or fruits? Considering cupcakes, a truffle tower or cake-balls?
All of this talk about cake is making me crave a steaming cappuccino topped with a thick layer of milky froth, thus bringing me to ask this question: An extraordinary amount of thought and consideration goes into selecting the perfect wedding cake. Wouldn't it follow that the quality of coffee served to your wedding guests is an equally important decision?
Tasha Bracken, wedding planner extraordinaire and nationally-acclaimed owner of the boutique event planning agency  S D Events, explains, "The dessert course is the perfect opportunity to express your own style, especially if you love sweets. A gourmet dessert station is becoming a huge trend and is best complemented with great cappuccino and coffees that offer a unique touch that can be garnished with a custom logo."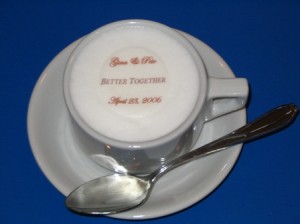 Don't let the quality of the coffee you serve your guests be an afterthought. Be proactive! Tasha says, "Find out what your venue or caterer offers. Can they offer hot chocolate, lattés and flavored coffee drinks? Be sure to compare vendor pricing. Many times it's less expensive to bring in an outside company and get a credit for the coffee service."
Bottom line: Do your research. Make sure to taste your caterer's coffee or reception venue's coffee. Remember, the main purpose of coffee service is to complement the custom-designed cake, a.k.a. the centerpiece of the dessert course. Think wedding bliss: a bite of scrumptious cake followed by a sip of a luscious latté.
If you want to provide your guests with coffee that actually enhances your dessert course, contact a specialty coffee beverage service like Espresso Dave's for a coffee bar. "You are then assured your sweet ending has a gourmet jolt," says Tasha.
Well said.
Luxurious wedding cakes designed by Boston Wedding Group member Jenny's Wedding Cakes. Cake photos by Jenny Williamson.